How Can I Participate in Dealers Auto Auctions?
The Internet has changed so many things in our lives. For example, thanks to the number of online retailers out there, we're now able to buy whatever we want with the click of a button. What's more is that the competition in the marketplace has driven down prices, making it easier to get incredible deals on the things we want. While you normally think of this level of convenience as it pertains to consumer goods like electronics, there are other purchases you might make that are affected too! For example, consider a large purchase like buying a car. Thanks to online retailers, it's now possible to purchase a vehicle through major dealers auto auctions in the United States without ever having to leave your home…
Dealers Auto Auctions
[auctions]
But, in the automotive realm, there's been an even more massive development of late. It has to do with car dealer auctions, and how they're now more open to ordinary consumers than they ever have been before.
Why should this excite you? Well, car dealer auctions offer three killer benefits that should be music to the ears of anyone looking to purchase a vehicle. They allow you to shop in the comfort of your own home, give you thousands of vehicles to choose from, and allow you to potentially save thousands of dollars.
Sounds tremendous, right? Below, we're going to explore the various steps you can take to get involved. In the end, you'll see why so many others are now using car dealer auctions as their preferred way to buy a vehicle!
Further Read
An Explanation of Car Dealer Auctions
Car dealer auctions are, of course, nothing new. They've been around for a long time, and there's likely one taking place near you in the not-too-distant future. In a nutshell, these are auctions where various entities and institutions auction off used, salvage and even like-new vehicles. Due to the auction format, those who participate are able to snatch these cars up for pennies on the dollar quite often.
There's just been one big problem with these car dealer auctions when it comes to consumers. By and large, these auctions are closed to the general public and only open to those with dealer's licenses. Sure, there's the auction here or there that the public can access, but these are usually few and far between.
However, there are a few ways around the dealer's license restriction. Let's explore the old-fashioned way first before we get to the best way.
Gaining Access to Dealers Auto Auctions In Person
If you wanted to participate in a car dealer auction taking place near you, there are essentially two ways in which you could go about this. First, you could look into what it takes to become licensed as a dealer in your state. Depending upon where you live, this might be somewhat easy. Second, you could enlist someone else who is licensed as a dealer to bid on your behalf.
Doing either of the above would allow you to gain access to car dealer auctions, but there are drawbacks to both. For one, either option is going to be an expense. If you get licensed, you'll have to pay fees; if you hire someone to bid for you, you will have to pay that person. In addition, when you hire someone to bid for you, you may not be able to attend the auction yourself in person.
Thankfully, there's now a much better way to gain access to car dealer auctions. It's one that's not only more convenient, it also requires no up-front expenditure on your part.
A Brave New World: Online Car Auctions
No more these guys ?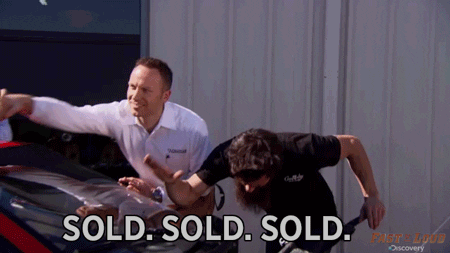 In recent years, there are a number of websites that have cropped up that allow ordinary consumers to access car dealer auctions. These are distinct from long-term online auction sites like Adesa and Manheim, which also restrict use of their services to licensed dealers.
How is this possible? Well, these online car dealer auction websites allow users to access dealer auctions by listing vehicles on their site from certain dealer-only auction houses (other than Manheim and Adesa) so that you get access to this inventory at great prices. Because of this, ordinary consumers can now browse thousands of auctions taking place across the country from the comfort of their own homes… And this is all without the need to get licensed or to hire and pay someone to bid for you.
Why You Should Try Online Car Dealer Auctions
Still, you might be wondering why you should give up the ordinary means of buying a used, salvage or like-new car. Why, after all, should you give this brave new world of online car dealer auctions a try? As it turns out, there are some very crucial reasons.
For one, you've never had this level of choice available to you. With a rotating list of auctions taking place each and every day, there are thousands of cars to choose from. Simply put, you'll never have an easier time finding the car that you're looking for.
Information at your fingertips
And that level of choice can be enjoyed from the comfort of your own home. At the click of a button, you can inspect a plethora of vehicles. In addition, you'll almost always have access to a car's VIN, which means requesting a history report is as simple as using a site like CarFax.
But, the big benefit is the savings. Think of it this way. Many used car dealerships use dealer auctions to stock their inventory. When you cut them out of the equation by accessing car dealer auctions directly, you do not have to pay a dealership's markup. In many cases, this can equate to savings that total in the thousands of dollars.
How to Sign Up for Online Dealers Auto Auctions
There's really only one way, though, to find out just way car dealer auctions online are so great. You have to check them out for yourself! To learn more about what's involved in signing up, searching, bidding, and ultimately winning your next vehicle, check out this tremendous guide. You'll learn everything you need to know, and you'll quickly be on your way to discovering why car dealer auctions are the best way to buy a used, salvage or like-new car!